The USB 2.0 fiber extender is composed of a transmitter and a receiver. It extends the host's USB interface (USB2.0) to the remote end through single-mode or multi-mode optical fiber and expands it to 4 USB ports. It supports USB2.0 high-speed, full-speed and low-speed. The maximum transmission distance is 10 km (single-mode fiber). Support USB 1.1 and 2.0 types of high-speed cameras, hard drives, printers, scanners, audio equipment, touch screens, game controllers and other devices. Products can be used in video conferencing, multimedia information release, government departments, medical systems, commercial exhibitions, multimedia function halls, security monitoring, public utilities and other fields.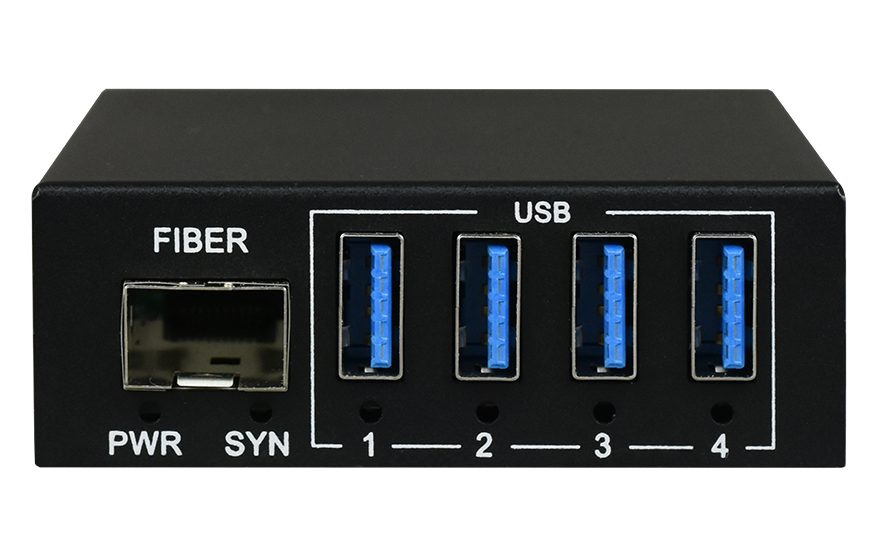 Product Features of USB 2.0 Fiber Extender
1. Support USB2.0 and USB1.1 protocol, support USB camera, printer, U disk, hard disk, scanner, touch screen, keyboard and mouse and other USB peripherals;
2. Support automatic identification of high-speed (480Mbps), full-speed (12Mbps), and low-speed (1.5Mbps) USB devices;
3. Support USB real-time data transmission up to 6 kilometers, and non-real-time data up to 10 kilometers;
4. Support mainstream operating systems: Windows, Mac OS X, Linux, Android;
5. The optical fiber extension is extended to 4 USB interfaces, and the total current is up to 2000mA;
6. SC interface single-core optical fiber transmission can be used without installing any driver software;
7. Support hot-swappable USB devices, easy installation, plug, and play.
8. Various power supply options are available: AC220V, DC-48V/DC24V, etc., supporting AC+DC dual power supply backup.
USB 2.0 Fiber Extender Parameters
◆ Fiber
    Optical port:
    Optical fiber: single fiber dual fiber
    Fiber interface: FC/SC/ST/LC(SFP)
    Wavelength: 850nm/1310nm multimode; 1310nm/1550nm single mode
    Transmission distance without relay: 20~20Km
    Typical transmit power:
    Single mode 1310/1550nm: ≥-9dBm
    Multimode 850nm: -18dBm
    Multimode 1310nm: -25dBm
    Receiving sensitivity range: -28dBm~- 40dBm
◆ USB2.0 interface
    Standard: USB2.0
    High speed: High-speed (25Mbps ~ 480Mbps)
    Full speed: Full-speed (500Kbps~12Mbps)
    Low speed: Low-speed (10Kbps~1.5Mbps)
    Total current: maximum 2000mA current
◆ Electrical and mechanical characteristics
    System power supply: AC180V ~ 260V
    Power consumption: ≤5W
    Appearance and structure: 140 (width) X110 (depth) X30 (height) mm (built-in power supply)
◆ Environmental indicators
    Working temperature: -10°C—+60°C (commercial grade)/-40°C—+85°C (industrial grade)
    Storage temperature: -40°C—+85°C
    Working humidity: 0%-95% (non-condensing)
    MTBF: >100000 hours