In municipal projects such as municipal water supply, sewage treatment, industrial water production, hydrological and water conservancy, centralized heating, environmental monitoring, urban lighting landscape control, a large number of monitoring and automatic control systems are used. Municipal engineering requires more reliable and anti-harsh environment communication capacity, and often video monitoring and data acquisition control are carried out simultaneously, and communication system is required to carry out different services at the same time. The industrial Ethernet switch of Fctel technology series can provide reliable and stable multi service communication in the worst environment, and provide communication guarantee for the effective operation of municipal engineering.



Solution features
    *The industrial Ethernet switch of Fctel technology series adopts self-healing ring network technology to provide fast self-healing protection and guarantee high reliable communication;
    *Industrial guideway design, specially designed for harsh industrial environment;
    *Provide two optical fiber lines, which can be automatically switched in case of line failure to ensure normal communication;
    *Support a variety of optical fiber network structures: point-to-point, star, chain, ring redundancy, and can be combined into more complex network topology, support a variety of optical fiber network structures;
    *The equipment provides 4-way 100M Ethernet electrical port, 4-way 100M Ethernet optical port and 2-way gigabit optical Ethernet interface. The total transmission bandwidth of the ring network is 1000m;
    *Built in 1mbit mp-ssram high-speed memory, non blocking design, maximum backplane bandwidth 32GBIT / s;
    *Based on FPGA + arm design, it can quickly shorten the establishment time of self-healing loopback and support "FC ring" redundant ring network (self-healing time < 20ms);
    *Support the transmission of VLAN ultra long data packets, which can be matched with the switch products supporting IEEE802.1Q protocol, and support the Ethernet packet with a maximum of 10K bytes;
    *It has the functions of broadcast storm protection, traffic balance, conflict isolation and error detection;
    *10 / 100Mbps adaptive, interface MDI / mdi-x adaptive without manual adjustment;
    *The Ethernet interface and serial data are equipped with lightning protection, and the lightning protection reaches 8 / 20 of short-circuit current wave of GB / t17626.5 (iec61000-4-5) μ s. Open circuit peak output voltage 6kV standard;
    *Provide 2-way RS232 / 485 / 422 interface, three kinds of data interface, RS232 support 3-wire RS232 (txdrxdgnd);
    *The RS232 / 485 / 422 channel can transmit asynchronous serial data from 0-115200 baud rate;
    *The device has the console (CLI) network management and web management platform, which can upgrade the software online, and manage the working status of each slave device on the host side;
    *Support wide range AC / DC input (9v-48v), support internal isolation, redundant dual power input, support overload protection and anti reverse connection protection;
    *It meets the requirements of industrial grade IV electromagnetic compatibility;
    *Ultra strong lightning protection function: lightning protection, anti induction high voltage, anti surge, etc., efficient heat dissipation without fan, reducing repair time;
    *Anodized aluminum alloy shell, IP40 protection grade, can withstand the test of harsh environment, provide rail type or wall mounted installation;
    *It can resist strong electromagnetic interference and surge, and operate stably without fan in the ambient temperature of – 40 ℃ ~ 85 ℃. It is suitable for application in harsh environment.
Fctel technology series industrial Ethernet switch solutions applied to
    1. Urban water supply dispatching communication system
    2. Integrated monitoring and dispatching system of urban drainage pumping station
    3. Automatic control system of sewage treatment
    4. Water regime monitoring and dispatching / dam monitoring
    5. Urban heating monitoring system
    6. Municipal pipe network monitoring system
    7. City security monitoring and safe city monitoring system
Communication solution of Fctel technology water treatment monitoring system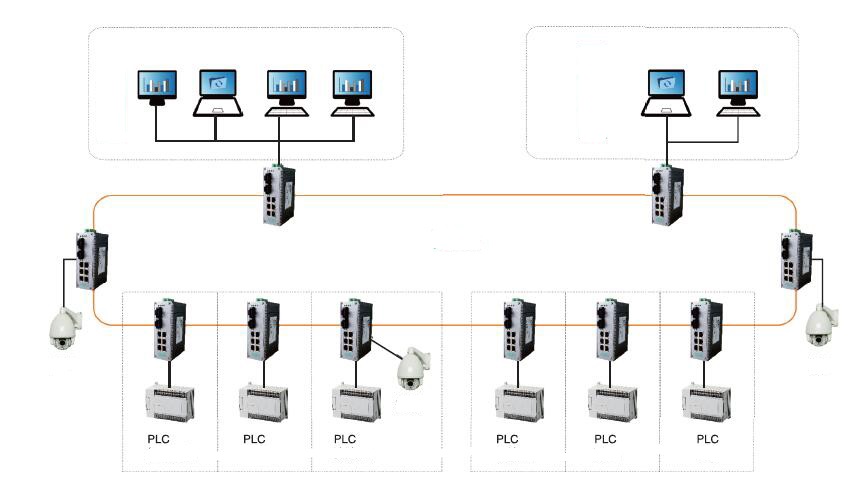 Well, the above content is Fctel technology industrial switch series products applied to the municipal engineering industry in detail, I hope to help you! Fctel technology has been specialized in the R & D, production and sales of optical transceiver, industrial switch, optical fiber transceiver, protocol converter and other industrial communication equipment for 20 years. Welcome to understand and exchange.
email: ethan@fctel.com
Web: https://www.fctele.com/Products/Serial_Industries_Fieldbus/