"Village to village" is a national systematic project, which includes: highway, electric power, living and drinking water, telephone network, cable TV network, Internet and so on. As a project of benefiting the people, the village to village telephone project has significantly improved the rural infrastructure, and the telephone network has basically covered the administrative villages. At the same time, the construction of rural Internet has also made rapid progress. 97% of the villages and towns in China have Internet access conditions, 92% of them have broadband access, and some administrative villages also have broadband or narrowband access. Next, we will give you a detailed introduction of the comprehensive solution of the village to village project, let's understand it together!
    At present, copper cables are mainly used to cover the administrative villages in the village to village project, which has the following problems:
The price of copper cable is high;
The copper cables were stolen seriously;
Copper cable maintenance is not convenient;
The transmission distance of copper cable is limited;
Poor scalability.
    In view of the above problems, Hangzhou Fctel Technology Co., Ltd. has launched the solution of fiber integrated access system village to village project.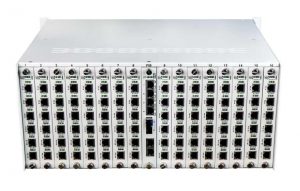 Fctel technology integrated optical fiber access equipment is a new and high-performance integrated access equipment independently developed by our company. This equipment is designed by selecting optical fiber mode. So as to realize the point-to-point and point to multipoint free network topology. It can not only be used as a remote module access, but also become the best supplement to the end of the transmission network. It is especially used in the situation of voice demand and high security.

    The Fctel integrated optical fiber access equipment can provide 24-312 channels of telephone, 48 channels of ADSL, 4 standard E1 interfaces, 100M Ethernet interface, 1 channel of RS232 interface and single optical port (dual optical port hot backup is optional).
    The 19 inch 6U standard chassis is adopted for Fctel integrated optical fiber access equipment.
    The Fctel integrated optical fiber access equipment adopts plug-in card type and modular design, with compact structure and convenient maintenance
    Main control panel with optical fiber interface (optical fiber type optional)
    Standard audio interface: FXO, FXS
    The maximum capacity of each business card can be configured with 24 channels of telephone, and each 12 channels of telephone has a dedicated telephone interface, which is easy to operate (the same as the switch).
    Provide carrier grade voice quality, clear voice quality, no noise, no communication sound, fast fax speed, clear handwriting; voice support caller ID and user reverse polarity
    Provide maximum 100m bandwidth Ethernet interface, 10m / 100M adaptive Ethernet interface, with automatic cross identification function for UTP cable
    Advantages of the scheme:
>The construction period is short and the investment is small.
>Good expansibility, plug-in card is used for various services, each card can be configured with 24 channels of telephone, and the maximum can be expanded to 312 channels of telephone.
>The traditional PSTN Mandarin voice, each voice occupies a 64K channel, not compressed, good voice quality.
>Easy maintenance: the front panel of the device is separated from the back access board, and the service card supports hot swap. When maintaining the device, only the front panel of the service card needs to be plugged in and out, without affecting the service of other slots.
>Long transmission distance: using optical fiber transmission, the longest distance can reach 120km.
>Support ADSL access, maximum support 48 ADSL access.
    Well, the above content is the detailed introduction of Fctel technology about the solution of the village to village project of the optical fiber integrated access system. I hope it can help you! Fctel technology optical communication and access solution expert! Long term commitment to provide customers with optical terminals, industrial switches, optical fiber transceivers and other industrial communication equipment, for you to solve product customization problems and small and medium batch orders, choose Hangzhou Fctel is to choose to rest assured, choose to save, choose to be comfortable. Welcome to come to understand and exchange, skype: Ethan.fctel